Gold Jumps with Yen, Shrug Off Bond Yields, on China-US Bonds Rumour

Bullion.Directory precious metals analysis 10 January, 2018
By Adrian Ash
Head of Research at Bullion Vault

GOLD PRICES jumped 1.2% against a plunging Dollar in London trade Wednesday morning, setting the highest bullion-market benchmark in 4 months as financial markets whipped on rumors that China may stop buying more US government debt for its huge foreign currency reserves.
Bloomberg News says officials running China's $3.14 trillion of central-bank reserves have "recommended" reducing or pausing the purchase of US Treasury bonds, blaming tensions with President Donald Trump over China's huge trade surplus, plus better returns offered by other assets.
Beijing grew its holdings of US debt some 13% to $1.19 trillion in the 12 months to October, Treasury data show, after slashing them at a record pace in 2016.
Who won Bullion Dealer of the Year 2018?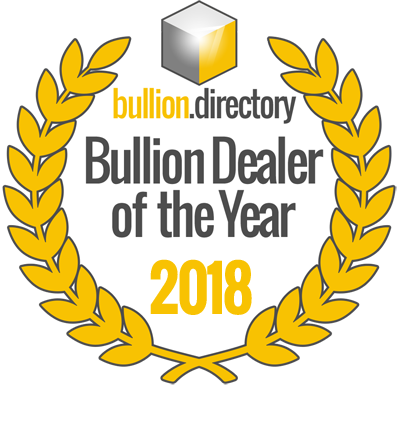 Your Top Choice in 2018 from 27,000 votes!
VIEW WINNER
Bloomberg's report comes a day after the Bank of Japan said it's cutting the amount of long-dated Japanese government debt it buys.
That's part of what some news-wires call "QE tapering" by Japan, despite Tokyo's official plan to create and spend enough money buying bonds to support their price and so keep the yield they offer at 0%.
London's AM gold price benchmark on Wednesday took 19 rounds and lasted 13 minutes after finding a heavy imbalance of demand over supply at an opening quote of $1316.05 per ounce.
The process finally cleared at $1321.65 per ounce – the highest fix since 15 September.
Commodity prices all rose against the falling Dollar, pushing copper up to new 4-year highs and Brent crude oil up above $69 per barrel.
China's stock markets edged higher but Tokyo fell from 26-year highs and Eurozone equities dropped hard as the single Euro currency jumped almost 1 cent and the Japanese Yen surged near a 6-week high at stronger than €111.3 per Dollar.
Dollar-priced gold showed its strongest-ever connection with the Yen's Dollar value in 2017, averaging a 5-week correlation across the year of minus 0.83 with the USDJPY exchange rate.
That statistic would read -1.0 if the Dollar's Yen value moved perfectly opposite to the Dollar price of gold.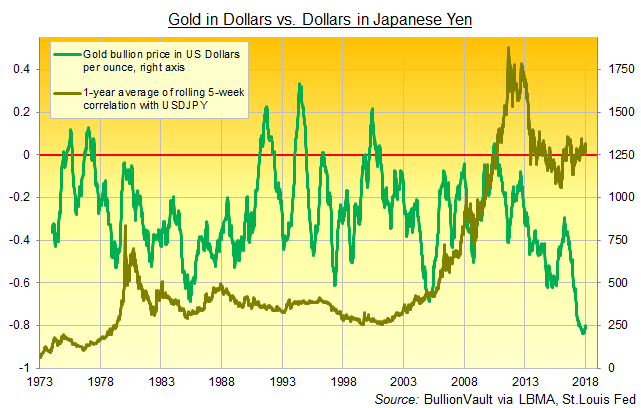 Alone amongst major currencies the Chinese Yuan in contrast fell 0.5% against the Dollar on Wednesday even as the rest of the world's money jumped.
The People's Bank "neither confirmed nor denied" interfering in the Yuan's exchange rate in an email reply to Caixin News.
Despite next month's Lunar New Year holidays – the heaviest gold-buying season in the world's No.1 consumer nation – the drop in the Yuan squashed the Shanghai premium to London gold quotes beneath $5.80 per ounce.
The smallest incentive for new bullion imports into China since September, that was one-third below its average level.
Bond yields rose across the board Wednesday as all major-government debt prices fell, jumping sharpest on UK Gilts and German Bunds.
Outside the Japanese Yen, gold prices also jumped for non-Dollar investors, taking the UK gold price in Pounds per ounce back to Friday's 5-week highs at £978 and taking bullion for Eurozone investors up near €1105.
Silver prices in contrast struggled, reclaiming only half of this week's prior loss against the Dollar to trade at $17.11 per ounce.
Platinum tracked gold prices more closely, edging its highest price against the falling Dollar since mid-September at $972 per ounce.

This article was originally published
here
FREE REPORT: 5 "Tells" that the Metals Markets Are About to Reverse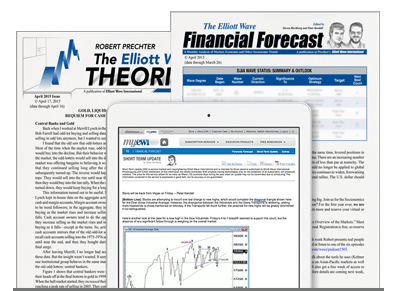 Jump on once-in-a-lifetime opportunities and avoid dangerous pitfalls no one else sees coming.
We can help you prepare for opportunities and side step risks that will surprise most investors. The insights that you'll gain are especially applicable to the price patterns of key financial markets, including precious metals and the stock market now.
Read the Free Report Now - Immediate Access, No Email Required.