Gold Prices Hit 4-Week Dollar High as Stocks Fall from 'Irrational Exuberance'

Bullion.Directory precious metals analysis 15 November, 2017
By Adrian Ash
Head of Research at Bullion Vault

GOLD PRICES jumped to 4-week highs against a weakening US Dollar in London trade Wednesday lunchtime, reaching $1288 per ounce as world stock markets followed Wall Street lower for the 5th session running.
New data today showed US inflation holding at the Federal Reserve's 2.0% annual target in October, while retail sales rose 4.6% from the same month last year.
Silver and platinum both reached 1-week highs as the Dollar fell to worse than $1.1850 against the single Eurozone currency, its weakest level in a month.
Tuesday in contrast had seen another heavy selling order in Comex gold futures, notes Bloomberg, with "erratic volume" in the derivatives market "going from an oddity to a more regular feature of trading."
"Rumours on the market [say] the gold selling may have to do with Venezuela's national bankruptcy," reports today's daily commodities note from German financial services group Commerzbank, after the crisis-hit Latin American state allowed a swap deal to lapse last month with former bullion bank Deutsche Bank.
"Possibly this gold has now been sold after the loans were not serviced," says Commerzbank.
A record-high balance of investment managers have meantime been taking " more risk than usual" according to the latest survey from Bank of America Merrill Lynch.
Cash holdings amongst managers running $610 billion of assets fell this month to a 4-year low at 4.4%, the survey found.
Yet at the same time, a record 48% of the survey's respondents said they believe equity markets are currently "over valued".
That disconnect between fund managers' views and behavior points to "irrational exuberance" says BAML's report, using a phrase coined by ex-Federal Reserve chairman Alan Greenspan as the Tech Stock Bubble accelerated in the late 1990s.
A separate survey from data and technical analysis service Investors Intelligence put the balance of bullish over bearish investors at the highest level since just before the 1987 'Black Monday' crash at the start of this month.
"The recent weakness in US high-yield bond prices [has been] diverging notably from stock prices [setting] new highs," says the latest Global Strategy Weekly from French investment bank Societe Generale strategist Albert Edwards.
Within the stockmarket itself, Edwards adds, "there has been a clear divergence in [2017] performance between companies with highly leveraged (bad) balance sheets and those [without]," pointing to a chart from his colleague Andrew Lapthorne.
"Is this a straw in the wind that a bear market is arriving far sooner than most investors had anticipated?"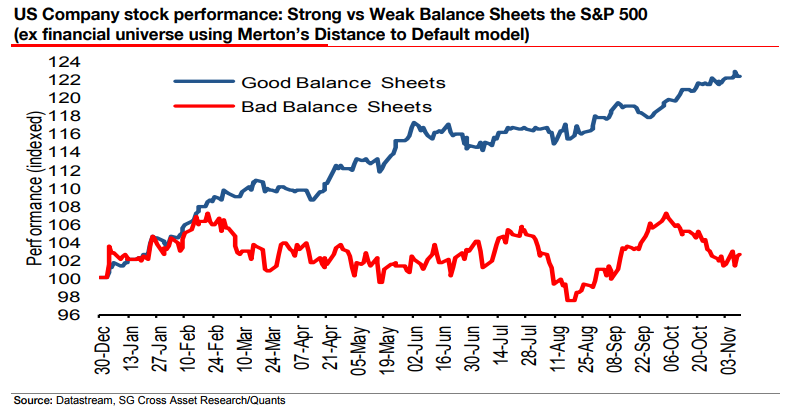 Amid the military coup against ruler Robert Mugabe's wife becoming his successor in southern African state Zimbabwe meantime, major platinum producer Zimplats said its mines — "all located some distance" from the capital Harare — "have continued to operate normally this morning.
Accounting for 7.3% of global platinum mine supply over the last 5 years, Zimbabwe holds the world's second-largest unmined reserves of the metal behind No.1 producer South Africa.
Data from specialist consultancy SFA (Oxford) forecasts a 9% decline in the country's 2017 output from last year's record.
Rising 3.2% so far in 2017, the platinum price has lagged both silver – up 7.6% in US Dollar terms – and gold, now more than 11.5% above its New Year start.

This article was originally published
here