Gold Prices Hit 22-Month Euro High as Paris Prepares for 'Act 13', 'Deluded Left-Wingers' Back Maduro Over BoE Gold Request

Bullion.Directory precious metals analysis 05 February, 2019
By Adrian Ash
Head of Research at Bullion Vault

GOLD PRICES again held $5 per ounce lower for this week so far in London on Friday, trading just below $1313 as the US Dollar edged higher once more on the currency market.
European stock markets fell for a second day, erasing the week's earlier 1.9% on the EuroStoxx 600 index as Paris and other French cities prepared for 'Act 13' of so-called gilets jaunes protests and France's worst diplomatic row with Italy since WW2 continued over "interference" from Rome's finance minister.
Gold priced in the Euro set fresh 22-month highs above €1158 per ounce, gaining more than 14% from last September's multi-month lows.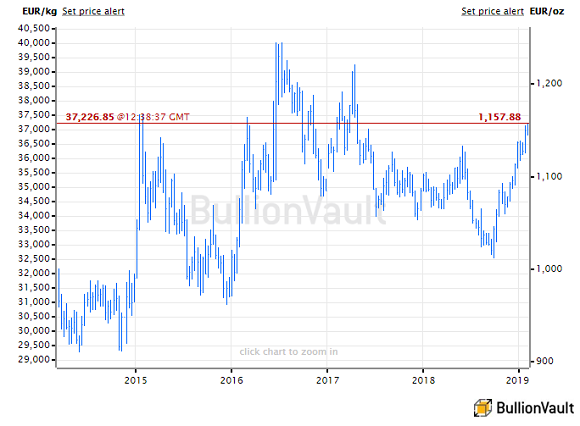 "Some of our growth indicators are clearly seeing easing global activity and trade volumes are being hit," Reuters quotes economist John Sharma at National Australian Bank.
"That makes people cautious and could derive support for gold around $1300-1330 range."
Betting on US interest rates now sees a 30% chance that the Federal Reserve will cut the cost of borrowing from today's 2.5% level by this time next year.
This time last month, 20% of the betting said the Fed will raise rates by February 2020 – a likelihood now slashed to 1.4% according to data from the CME derivatives exchange.
As gold in Dollars headed for its first weekly drop in three on Friday, record-high retail gold prices in No.2 consumer nation India look set to boost household selling of jewelry, says the India Bullion and Jewellers Association (IBJA), with scrap flows for the first 3 months of 2019 likely to reach 25 tonnes – some 75% greater than the same period last year.
Back here in London, around 100 protesters yesterday demanded that the Bank of England release the 31 tonnes of gold it apparently holds in custody for Venezuela to the government of Nicolas Maduro – a move that would defy both US sanctions and a request from the Latin American state's widely-recognized interim president Juan Guaido.
"There's undoubtedly a crisis in Venezuela at the moment," admitted UK Labour Party politician Chris Williamson, "but that's not going to be helped by seizing the nation's assets in this way."
"Before going ahead with any transaction," the Bank of England tells the AFP news agency, "[we must] be satisfied that the counterparty has the authorisations necessary to request the transaction, that all relevant sanctions are complied with, and that there is no evidence that the transaction will involve relevant criminal activity."
Besides Williamson, the protesters – called "deluded left-wingers" by the Conservative MP who last month asked the Bank of England to continue refusing the Maduro government's requests – included former Labour MP Ken Livingstone.
As Mayor of London he swapped advice on transport and tourism for a 20% discount on fuel from Venezuela for the UK capital's bus fleet from Maduro's predecessor Hugo Chavez. In 2017 he reportedly said that Venezuela's descent into chaos was because "when Chavez came to power, he didn't kill all the oligarchs."

This article was originally published
here
FREE REPORT: 5 "Tells" that the Metals Markets Are About to Reverse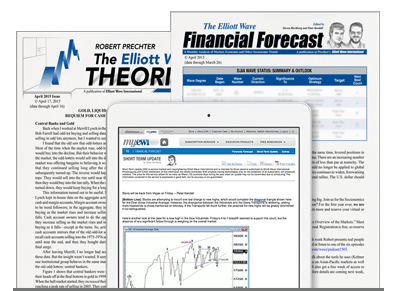 Jump on once-in-a-lifetime opportunities and avoid dangerous pitfalls no one else sees coming.
We can help you prepare for opportunities and side step risks that will surprise most investors. The insights that you'll gain are especially applicable to the price patterns of key financial markets, including precious metals and the stock market now.
Read the Free Report Now - Immediate Access, No Email Required.