Gold Prices 'Constructive' at $1200 as Specs Cut Shorts But US Yields Hit 3%, China Gets 'Tariffed!' by Trump

Bullion.Directory precious metals analysis 17 September, 2018
By Adrian Ash
Head of Research at Bullion Vault

GOLD PRICES peeped above $1200 per ounce yet again in London trade on Monday, rising above what was an 18-month low when reached in mid-August for the 9th time in 5 weeks.
Silver and platinum also rose as Western stock markets cut their earlier gains, rallying to $14.20 and $805 respectively
Base metals were little changed, leaving copper 3% above the summer's 1-year lows, as US President Trump praised the trade tariffs imposed on Chinese imports so far, saying ahead of this week's likely decision on taxing a further $200 billion of goods that his policy's impact on the US economy has been "almost unnoticeable".
"Pricing remains constructive" in Asian trade, says a note from Swiss refining and finance group MKS Pamp, "and layered bids underneath $1195 are evident.
"The most recent CFTC data shows an increase in [speculative] positioning across all metals [albeit from record bearish bets], with shorts tapering off somewhat to possibly indicate we are beginning to see a short-term bottom."
But "concern over trade tensions between the US and China is translating into a stronger Dollar," Reuters quotes Japanese conglomerate Mitsubishi strategist Jonathan Butler.
"As the Dollar remains relatively well supported, yields continue to rise and the US economic growth story remains in place, it's hard to see where a strong rally would come from in gold."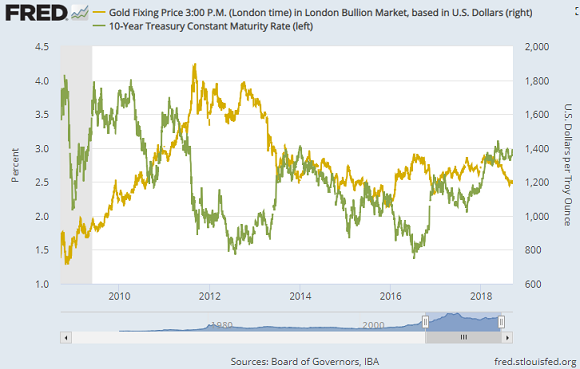 Ten-year US Treasury yields rose again above 3.0% in Monday's trade.
Crude oil meantime rallied towards last week's 2-month highs above $70 per barrel of US benchmark West Texas Intermediate as analysts questioned how heavy importers such as India are going to fill the supply gap caused by US sanctions blocking flows from Iran – the world's 5th largest producer nation in 2017.
Saudi Arabia and Russia have "taken the oil market hostage" a Tehran official said at the weekend, accusing the Opec oil cartel of becoming "a US tool".
Russian president Vladimir Putin met Turkish leader Recep Tayyip Erdoğan to discuss Syria's military attack on the final rebel stronghold of Idlib, already causing a fresh spike in refugees fleeing across the border into Turkey.
Ukraine today said it plans to open a new naval base on the Sea of Azov – effectively closed to its ships since Russia annexed the region of Crimea in 2014 – aiming to " pave the way for repelling [such] aggressive acts" as tensions between the former Communist partners worsen.
With the UK continuing to challenge Moscow over the poisoning of a former spy in Salisbury, business investment in the world's 5th largest economy has meantime "been lower than would be expected in the context of robust global growth" thanks to "uncertainty over the terms of the EU withdrawal" says the latest International Monetary Fund assessment.
"Above-target inflation following the sharp post-[Brexit] referendum sterling depreciation has slowed real income and consumption growth."

This article was originally published
here
FREE REPORT: 5 "Tells" that the Metals Markets Are About to Reverse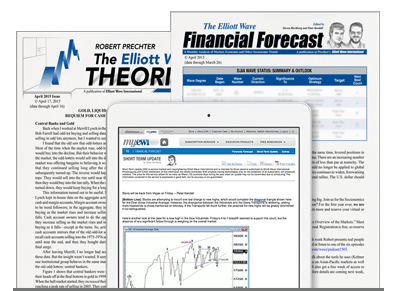 Jump on once-in-a-lifetime opportunities and avoid dangerous pitfalls no one else sees coming.
We can help you prepare for opportunities and side step risks that will surprise most investors. The insights that you'll gain are especially applicable to the price patterns of key financial markets, including precious metals and the stock market now.
Read the Free Report Now - Immediate Access, No Email Required.