Gold Price Slips as Catalan Crisis 'Goes International' in Belgium, Japan Cuts Inflation Forecast

Bullion.Directory precious metals analysis 31 October, 2017
By Adrian Ash
Head of Research at Bullion Vault

GOLD PRICE gains of 0.5% evaporated in Dollar terms in London trade Tuesday as European stock markets rose with government bond prices despite the "internationalization" to Belgium of Catalonia's separatist push against Spain.
With Dollar-gold trading down to last week's finish at $1272 per ounce — the lowest Friday close since early August —  the gold price in Pounds per ounce flirted with 1-month lows for UK investors at £960, and also fell against most other major currencies.
Ahead of Wednesday's US Fed decision on Dollar interest rates, the Bank of Japan today held its negative rate and unlimited QE asset purchase programs unchanged yet again.
But the Tokyo central bank trimmed its forecast for consumer-price inflation in the world's third largest single economy back below 1.0% per year in 2018, meaning it "will be in no position to tighten policy anytime soon," says consultancy Capital Economics' Marcel Thieliant.
The Yen fell Tuesday morning to ¥113 per Dollar, while the Nikkei stock index held flat and 10-year bond yields — now targeted at zero by the Bank of Japan's QE policy — edged higher towards 0.07%.
On a 3-monthly basis, Dollar-priced gold showed a near-record strong correlation against the Dollar's Yen exchange rate earlier this year, with the two moving almost in lock-step.
That strongly negative correlation has since eased off, moving from August's reading of -0.97 back towards the relationship's 10-year average of -0.50 in October.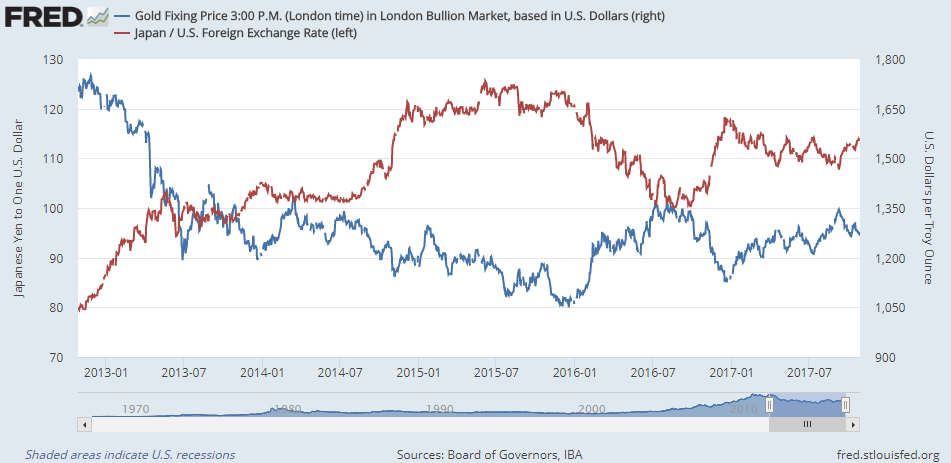 Meantime in Spain, the national government's Civil Guard today visited offices of the Mossos d'Esquadra to question Catalonia's police force over its involvement in the illegal referendum on independence held by Barcelona on 1st October and now known as 1-O.
Madrid this weekend anulled the regional parliament and called fresh elections for Catalonia on 21 December, already nicknamed 21D.
Now fled to Belgium at the invitation of the Flemish minister for asylum and migration — an invitaton since denied as party policy by a spokesman for the N-VA, one of 4 parties in Belgium's fragile ruling coalition — ex-Catalan governor Carles Puigdemont said at a chaotic press conference that he and 5 former colleagues weren't seeking asylum but wanted to "internationalize" the dispute and "make clear that there is a problem with Catalonia."
Vowing to stand for and then "respect" the electorate's decision on 21D, Puigdemont has appointed as legal counsel the Belgian lawyer Paul Bekaert, a self-declared specialist in European arrest warrants, extraditions and political asylum who over the last 30 years has advised Northern Ireland's IRA, Kurdish separatists, Turkey's Marxist DHKP and radical Basque separatists ETA.
Belgium's 10-year bond yields edged higher on Tuesday but held near the low-end of 2017's range at 0.62%.
Spanish 10-year yields meantime retreated to the lowest in almost 2 months, falling to 1.48% as the Ibex 35 index of major shares rose to its highest since mid-August, gaining over 6% from early October's 7-month low.
The Euro slipped back below $1.1650, barely 1 cent above Friday's 3-month lows to the Dollar.
That helped the gold price in Euro terms rise within 0.2% of EUR1100 per ounce for the fourth time in 3 days before it fell back to EUR1093.

This article was originally published
here