Gold Price Pops to Weekly Gain as Trump Hits China with Sanctions, US Inflation Rises

Bullion.Directory precious metals analysis 10 May, 2019
By Adrian Ash
Head of Research at Bullion Vault

GOLD spiked to show a 0.7% gain for the week in London trade Friday lunchtime as new data showed US inflation holding firm amid the worsening trade tariff war between the Trump White House and China.
US Dollar gold prices rose to $1287 per ounce as the Bureau of Labor Statistics said the headline Consumer Price Index rose 2.0% per year in April, driven by the cost of gasoline when crude prices hit 6-month highs amid President Donald Trump's move to sanction any country buying oil from Iran.
After the latest US-China talks failed to make progress overnight, the White House today hiked tariffs on a further $200 billion-a-year of Chinese imports, up from 10% to 25% as of midnight Eastern Time.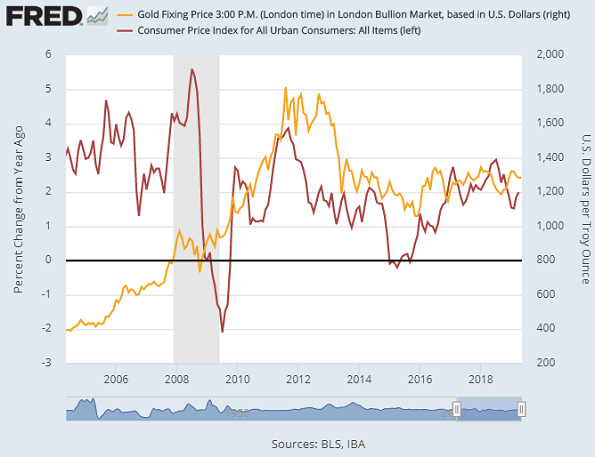 "We hope the United States will meet us halfway, and work with us to resolve existing issues through cooperation and consultation," said China's Ministry of Commerce, again threatening un-named "counter-measures".