Gold Price Firm vs Rising Dollar as 'Cheating, Stealing China' Sees it's Credit Slow and Inflation Rise

Bullion.Directory precious metals analysis 09 May, 2019
By Adrian Ash
Head of Research at Bullion Vault

GOLD PRICES held firm for the week so far against a rising US Dollar in London trade Thursday as world stock markets fell and the Chinese Yuan hit 4-month lows on a raft of weak data ahead of more trade talks between Washington and Beijing.
Dollar gold prices held above $1280 per ounce, 1.0% below yesterday's spike to 3-month highs, as global equities lost value for a fourth day running as the US-China trade war intensified once more.
Shanghai gold prices held $12 higher, extending the run of stronger-than-average incentives for new inflows of bullion into the metal's No.1 mining, consumer and importing nation.
With US President Trump declaring at the weekend that he will impose heavy new penalties on Chinese imports from tomorrow, China's vice-premier Liu He is due to land in Washington later today.
"We won't back down until China stops cheating our workers and stealing our jobs," Trump told a "raucous" campaign rally in Florida overnight.
"China deeply regrets this," said Beijing's politburo in a statement, "and will be forced to take necessary countermeasures if the US side puts the tariff measures into effect."
After yesterday's reported slump in China's trade surplus, new data from the world's second largest economy said Thursday morning that consumer-price inflation hit a 6-month high of 2.5% in April, led by rising food costs.
China's government revenue growth meantime slowed to 2.8% per year, less than half the rate of growth seen this New Year, back when Beijing's public budget spending set a new all-time record high.
China's income tax receipts had already fallen by 49% in March from a year earlier thanks to last autumn's higher personal allowance thresholds taking 80 million people out of income tax altogether.
That change was followed this spring by what pundits called "unprecedented and sufficient" tax cuts worth almost $300bn, most notably a reduction in VAT sales tax.
Figures from the People's Bank of China meantime said today that private-sector borrowing halved last month from March's level and totaled just 30% of January 2019's new all-time record.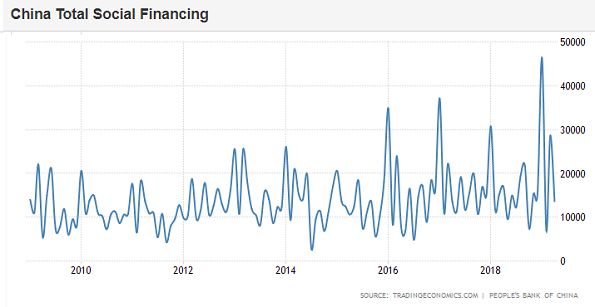 "Beijing's policy focus is sticking to stabilization, rather than chasing a rebound," reckons research firm T.S.Lombard's chief Beijing economist Zhuang Bo.
"[But] if the trade negotiation goes south with tariff hikes this week, China's economic policy priority will shift back to easing and stimulus."
Commodity prices also retreated with equities on Thursday, holding Brent crude oil at $70 per barrel.
Silver outpaced the drop in gold prices, falling within 20 cents of last week's 5-month low to trade at $14.75 per ounce.
Industrial precious-metal platinum – primarily used to reduce harmful emissions from diesel engines – also fell, dropping over $20 for this week so far at $851 per ounce.

This article was originally published
here