Gold Prices -1% from 6-Week High as Dollar Jumps, UK Trade Deficit Yawns, Trump Denies Russia Scandal

Bullion.Directory precious metals analysis 11 January, 2017
By Adrian Ash
Head of Research at Bullion Vault

GOLD PRICES fell hard from 6-week Dollar highs in London trade Wednesday afternoon, losing over 1% inside 3 hours as New York stock markets opened at new all-time record highs despite a fresh scandal over US intelligence service claims that Russia's Kremlin interfered to ensure the victory of Donald Trump for the White House.

The Dollar rose on the currency markets, hitting 1-week highs versus the Euro and Chinese Yuan.
Dropping $10 of the week's prior $18 per ounce gains, gold prices traded back down to $1178.
Silver also cut its gains to 0.6% from last Friday's finish, trading back below $16.60 per ounce after touching its highest Dollar prices in 4 weeks.
"I win an election easily, a great 'movement' is verified, and crooked opponents try to belittle our victory with FAKE NEWS," said Trump on Twitter today after the Buzzfeed website followed CNN's report that FBI and CIA chiefs gave the president-elect a dossier claiming Russian spies hold "compromising personal and financial information" about him by publishing a document purporting to list the allegations but littered with factural errors.
"As someone who has covered Trump on and off for 25 years," comments Gersh Kuntzman at the New York Daily News, "I can heartily testify that he's a jerk.
"This salacious tale makes Trump look so good, I'm guessing he's the one who leaked it."
Mexican and other emerging-market bond yields meantime rose as their debt prices fell Wednesday, but US and most Western interest rates held unchanged.
The British Pound fell to 3-month lows near $1.21, helping the gold price in Sterling touch fresh 7-week highs above £982 per ounce, after new data said the UK's trade deficit with the rest of the world – already at 2.8% of GDP in the third quarter of 2016 – widened to £4.2 billion for the month of November.
Including imports and exports of all items logged by HM Revenue & Customs, the UK's trade deficit in goods widened by 3.6% to £13.2bn for the worst November in at least 10 years.
Excluding non-monetary gold however – meaning primarily shipments of large bars through the London bullion market, the global center for wholesale dealing – the UK's trade deficit in goods worsened 3.7% to £12.7bn, the second widest gap ever after September's record £14.4bn reading.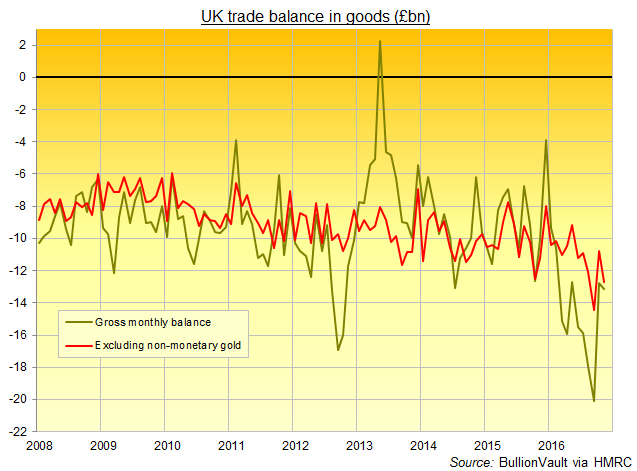 November's 2.5% drop in the Dollar gold price saw London gold inflows fall by one-fifth as outflows rose 5-fold from October.
UK gold exports to Switzerland – the world's key refining hub, where 400-ounce Good Delivery bars withdrawn from London storage are transformed into 1 kilo gold bars before shipping east to meet demand in China and India, the top 2 consumer nations – rose 441% to the highest value since January.
Ahead of the Chinese New Year, Shanghai gold prices today rose to a new 7-week high against the Yuan, offering new imports a premium back above $20 per ounce premium to London quotes – some 8 times the historic norm.

This article was originally published
here