Three Countries.
Four Categories.
Twenty Finalists.
20,548 verified votes.
And the winners are…
What was at times a surprisingly fierce competition, our 2015 Bullion Dealer of the Year public vote is now over. And the votes have been counted.
We have seen both our
closest ever
category vote where only five votes separated winner and runner up…
…and we witnessed a David & Goliath fight that left our team open-mouthed and more than a little impressed.
Like gold, you could say it's been an exciting ride!
Bullion Dealer of the Year 2015 – Category Results
Bullion Dealer of the Year – USA Category Winner: Money Metals Exchange
#1 Money Metals Exchange
(33%)
Runners-up
#2 Regal Assets (31%)
#3 Gainesville Coins (21%)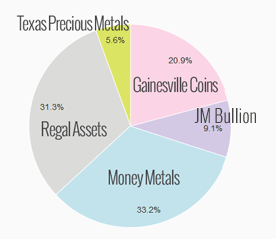 Idaho based Money Metals Exchange have led the US vote consistently throughout the two-month poll. Although their lead saw less than 30 votes separating the top 3 in early January when Regal and Gainesville gathered support, Money Metals managed to hold onto the #1 spot and regained a strong lead for the finish.
Money Metals' voting consistency is like everything else about Money Metals – from their regular news, analysis and podcasts to their positive reviews across the web – it's consistent, it's regular and no doubt for their competition, it's relentless.
No big-name celebrity endorsements, no tricks, and no flashy bells and whistles – just consistently good advice, fair pricing and proper customer service.
At the end of the day that's all anyone wants when they're investing thousands of dollars in precious metals.

We're deeply honored to have achieved this distinction in such a highly competitive field.

Money Metals Exchange are not only known for our fair, transparent pricing and fast delivery of customer orders, but also our significant educational efforts."
Stefan Gleason – President, Money Metals Exchange
Bullion Dealer of the Year – UK Category Winner: Chard 1964 Ltd.
#1 Chard 1964 Ltd.
(51%)
Runners-up
#2 Bullion By Post (44%)
#3 Postal Bullion (4%)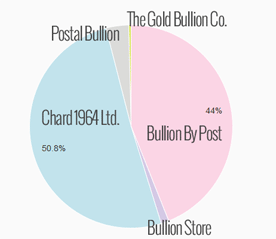 For a family-run company, Chard 1964 Ltd have always had a larger than life web-presence thanks to the tireless work of Lawrence Chard and his team, outputting some of the best and at times funniest gold content on the net. So when they made it onto our UK nominations list, our office were delighted, even if we reluctantly assumed a big national UK dealer would prevail.
However there's a phrase about assumption – and we all know the story of David and Goliath.
Our office straw poll had Bullion By Post as favorite, due to their trading volume and reach. And they certainly got votes – multiple hundreds and then thousands of votes.
But barely a day went by when Chard didn't actively campaign on their website, in social and traditional media, rallying their fiercely loyal customers to the fight.
In what was a perfectly constructed social-blitz, Chard pulled in front – and so began an epic two-horse race.
As the supplanted giant fought back against Chard, UK voting volume quickly overtook the US, Canadian and Specialist categories – to a position where the two companies shared an astonishing 95% of the UK vote.
When in the final week it appeared that Bullion by Post had developed an impossible lead – again Chard pulled off a massive final push, snatching victory at the last hour.
It was a voting onslaught our server could barely manage.
We are delighted that we have achieved this great accolade.

We pride ourselves on providing our customers with quality products and great customer service at highly competitive prices. Our customers are the life blood of the company and we are grateful for the support they have shown us.

We are so proud to be the UK BULLION DEALER OF THE YEAR 2015."
Lawrence Chard – Director, Chard 1964 Ltd.
Bullion Dealer of the Year – Canadian Category Winner: Cache Metals
#1 Cache Metals
(26%)
Runners-up
#2 Border gold (26%)
#3 Kitco (22%)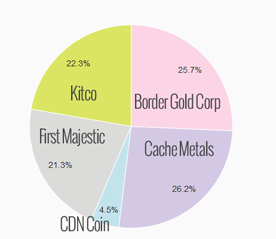 As with the UK vote, we've learned a valuable lesson in assumption – as Tornonto-based Cache Metals saw off international heavyweights Kitco to win the Canadian Bullion Dealer of the Year for 2015.
Cache Metals are big, certainly, being one of the best known Canadian bullion dealers – but Kitco? Kitco are planetary – in fact it's widely accepted that Kitco can be seen from space. From Saturn.
So for Kitco to be overtaken by not one, but two smaller companies, Cache Metals and Border Gold was a surprise.
Cache and Border were neck and neck for much of the vote having overtaken Kitco in December – with Cache ultimately beating rival dealers Border Gold by only 5 votes.
It just goes to show that even in a competition with 20,000 votes, every single vote counts.
Cache Metals and Border Gold are both winners. Cache just a little more so.

View listing Visit Site


Bullion Dealer of the Year – Specialist Category Winner: Regal Assets
#1 Regal Assets
(32%)
Runners-up
#2 Scottsdale Silver (27%)
#3 Gainesville Coins (24%)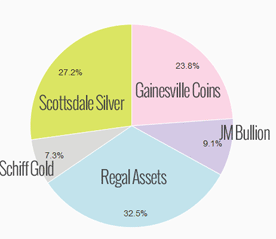 After a record-breaking year for Regal Assets it's no surprise that they received a strong vote in the specialist services category, where they were nominated for their precious metals IRA products.
Gold IRAs have recently become one of the big battlegrounds in the USA as precious metals companies fight for every last retirement dollar. Regal's aggressive marketing has certainly raised more than a few eyebrows, but has ultimately allowed them to dominate the market.
As the Specialist Services category is open to all metals niche services, Regal had some stiff competition up against mints, numismatists and even the force of nature that is Peter Schiff.
Taking an early lead Regal were overtaken by Scottsdale Silver late December, with the two companies then locked in a close competition for 1st and runner-up positions until Regal regained and maintained their lead in the final week of the vote.
In winning this vote, Regal Assets have once again shown their rivals they're not planning on going away any time soon.

View listing Visit Site


Silver bullion prize draw winners have been notified and the winners list will be published shortly