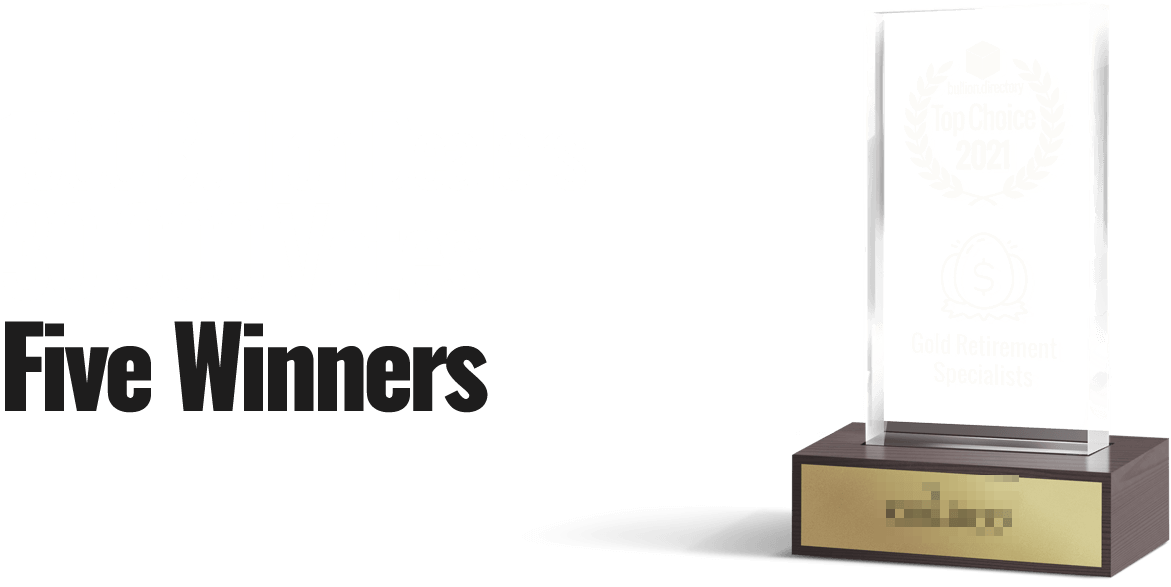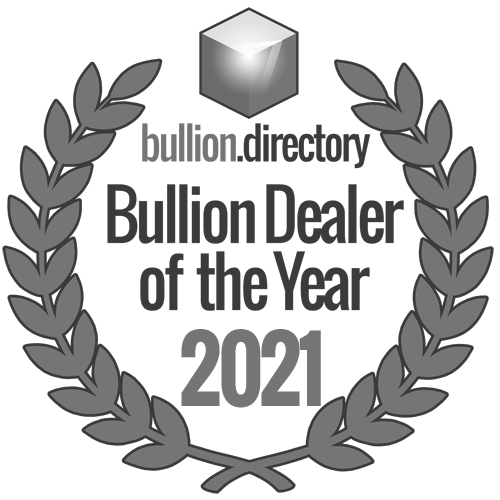 Best Gold IRA Companies 2021 - The Results
With over 1500 bullion dealers listed, selecting our Best Gold IRA Companies for 2021 was no small task!
Thanks to the votes of more than 30,000 consumers, countless reviews and ratings - and the tireless work of our army of mystery shoppers - we're delighted to announce our deserving winners for 2021.
The top five best gold IRA investment companies are listed in the following table, with more detail below.
Please note that some of the links provided on Bullion.Directory pay us a small fee if any purchase is made, but this in no way influeneces our verified public votes, site content or ranking, nor does it affect the price you pay.
How Bullion Dealer of the Year Winners are Selected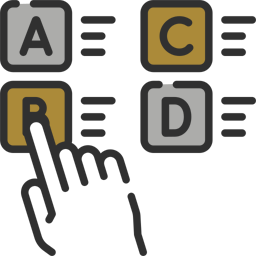 Public Vote
Our annual Bullion Dealer of the Year public vote typically sees 30,000+ individuals voting for their top companies.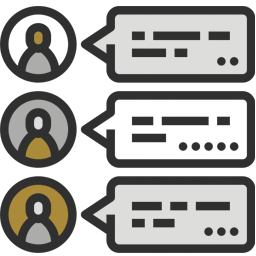 Consumer Reviews
We use our visitor's ratings and reviews and collate results across all the major consumer review platforms.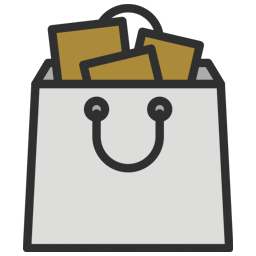 Mystery Shoppers
A growing team of experienced mystery shoppers regularly test, rate and report on our most popular dealers.
Although 2020's Coronavirus challenges meant we were unable to host our national public vote as usual, our staff and volunteers have been busy ensuring only the very best gold IRA companies made the grade for 2021.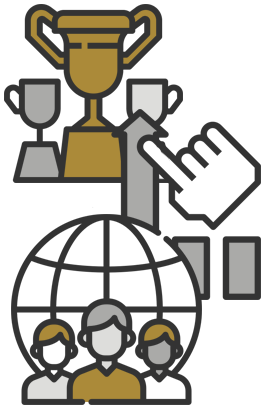 500,000+ monthly site clicks, and innumerable ratings and reviews across the site mean we're the go-to resource for bullion buyers.
Mystery shop reporting, sales analysis and test purchases ensure our first-hand experience of dealer services.
Our strict editorial policies mean we will only ever recommend companies on the strength of their merits and not on whether they pay to list with us.
ANY of our top-5 Gold IRA Dealers for 2021 will be able to provide you with exceptional levels of service, and customer care - something that's essential when your retirement is at stake!
Our Selection Criteria
In compiling our 2021 list of the best gold IRA companies, we don't only look at our annual public vote - we look at 5 key factors:
Choice: While the gold permitted in an IRA is somewhat restricted, there are still a large number of bullion bars and coins available for IRA investment – even if they're not available at all dealers. Most Gold IRA companies only carry a few of the best-known bars and coins and so tend to have lower than average scores for choice.
Value: When it comes to IRAs, value means a combination of lower than average premiums, fees and storage costs. All costs and fees should be transparent and available up front, allowing clients to make an informed decision regarding overall costs.
Customer Care: This is an area where Gold IRA companies shine because of the far greater need for discussion that comes with retirement planning versus more straight forward retail purchases. IRA specialists must be able to share sometimes complex information with customers in a friendly and non-overwhelming way.
BD Reviews: Direct company reviews in Bullion.Directory carry significant weight when it comes to our selecting our top companies. We must see a regular flow of genuine and detailed reviews for companies to be considered.
Other Reviews: as we discus next, third-party reviews can be a tricky area to navigate due to the commercial incentives of small publishers to promote the best-paying bullion dealers. Where it matters we only tend to look at the larger more trustworthy review sites with robust systems in place for stopping and removing false reviews.
Are Those Top Gold IRA Companies REALLY Top?
Doing any type of web search for "top gold IRA companies" is going to result in some confusing and often contradictory advice.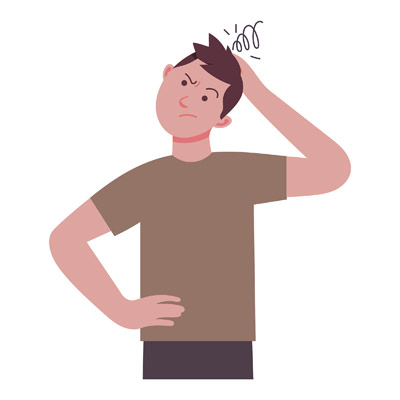 This is because many gold IRA companies run high-paying "affiliate programs" – where they will literally pay website owners commissions for sending web visitors their way. This means websites are incentivized to list higher-paying companies ahead of companies who pay nothing.
In fact in a survey we conducted in November 2020, we discovered that for 106 search terms including "best gold IRA" or searches for gold IRA company names followed by "review" that in 97% of cases ALL of the top 10 results were sites being monetized by affiliate links.
And of these 1060 different search results, 1013 of the resulting web pages advised using a company that paid the site owners a substantial commission.
This means that 95.6% of these results contained content that was little more than an advertisement.
Can these results really be relied on for trust and transparency?
At Bullion.Directory it's a strict company policy to never promote companies simply as a result of what they pay us – but how can you know we stand by that?
How can we be both a commercial operation and remain genuinely impartial?
When you first arrived on Bullion.Directory you should have been presented with a prominent notice declaring that certain companies pay us to be listed or to advertise on the site and that some of these are commission based.
In our case we have financial relationships with less than 1% of listed companies and receive active commissions from only 0.14%.
This means that over 99% of all site listings and recommendations earn us nothing at all. Ever.
When it comes to recommending gold IRA companies specifically, we promote 98 gold IRA specialists in the directory but only receive regular payments from two. See our advertising banners? That's them.
Are these 2 companies in our top 5? Yes they are.
Are they there because they pay us? Absolutely not.
Right from the start, Bullion.Directory has relied wholly on public reviews and ratings to help select our top choice companies and in 2014 we started running an annual public vote to find our Bullion Dealers of the Year. In pre-Covid years we've seen upwards of 30,000 votes cast across several categories – with one of the most popular and tightly contented categories being that of Gold IRA Specialists.
The companies on this list are here because they've either won or been highly placed in these annual votes – and because they have overwhelmingly positive reviews both on Bullion.Directory and across other impartial consumer review websites.
In all cases we have direct experience working with these companies and have been impressed by high levels of professionalism, market knowledge and incredible standards of customer service offered.
If we subsequently become aware that a company we recommend has slipped in their duty of care or have become less than exemplary we will immediately cease to actively promote them – despite any financial losses we may incur as a result.
We stand by our commitment to only ever recommend companies based on their merit, so when you see companies in our recommended lists you can be assured they're there because they are excellent – not because they've paid us.
#1

Winner: Goldco Precious Metals
Goldco

★★★★★
BD Rated:

93.8%

Goldco are synonymous with gold IRAs – they were one of the pioneers in the industry when the IRS first allowed bullion in retirement accounts – and they continue as market leaders today.
Despite expanding to offer other alternative investments such as cryptocurrency, it is their gold IRA and 401k rollovers which still form the bedrock of Goldco's business – something their team of over 60 expert advisors help thousands of Americans to achieve every year.
Built on a strong ethical foundation, Goldco leads the field for customer care and efficiency – introducing wealth-preserving physical gold and silver into hundreds of IRA accounts each month.
After evaluating your needs, Goldco advisors take their customers step-by-step through the whole investment process, ensuring every element of the tax-saving transfer is both legal, safe and cost-efficient.
From choosing a trusted IRS custodian to helping you select the most appropriate investments and arranging ultra-secure vaulting, Goldco are with you every step of your journey.
Consistently one of our top-rated listings and this now being the second year they've been the winner of our "Best Gold IRA Company" Goldco are undoubtably our #1 recommendation for anyone looking to add gold to their retirement account - and deservedly so.
In what is always a tight race, Goldco and runners up Birch Gold Group were separated by almost nothing - and in the end it was Goldco's dedication to precious metals education that saw them hit the top spot. Their indispensible Gold IRA Kit is only a small part of a library of excellent guides and reports available for free to clients and prospective customers.
This dedication is further shown by Goldco's unblemished history of top ratings among the main consumer protection sites:
Goldco Costs, Fees and Service Details
Because Goldco sells precious metals both as IRA and non-IRA transactions, different fees apply to each:
Minimum investment levels:
Non-IRA: $3,500
IRA: $25,000
Setup Fees:
Non-IRA: $0
IRA: $260
Consisting of $50 set up fee, $80 annual maintenance fee, $100* storage fee, $30 wire fee
Annual Fees:
Non-IRA: $0
IRA: $180
Consisting of $80 annual maintenance fee, $100* storage fee
*$100 storage fee is for non-segregated storage. Add $50 for segregated
Despite gold IRA rollovers and transfers involving more work than opening a new account, Goldco's fees remain the same – $260 including set up, first year's maintenance, vaulting and transfer wire fee.
Goldco Promotions For August:
Free non-segregated storage for non-IRA customers (worth $100)
First year fees waived for IRAs over $50,000
Free precious metals up to 5% of order value for any orders over $50,000
GET FREE GOLDCO KIT
Goldco Gold IRA Reviews:
I have talked to other precious metal companies and I talked to Kevin Troy from Goldco.

After talking with Kevin, in great detail about buying precious metals, I felt very assured, that it was the right thing to do at this time. The process at Goldco's end was very easy and everyone at Goldco was very professional."
Jeanette – North Palm Beach, FL
★★★★★
I am a first time buyer, with absolutely no experience in buying precious metals. I wanted to diversify my 401K so I would have some insurance against my stock portfolio. The staff at Goldco made it a simple 1, 2, 3 process. The staff was courteous and responsive and most important, knowledgeable! Their service was prompt. I look forward to working with them in the future, should I decide to purchase more gold and silver or sell my existing investment."
Richard – Oceanside, CA
★★★★★
I can only say my experience was absolutely great. Everything was explained to me in detail to where I understood exactly what was going on with my investment from start to finish. The team at GoldCo are extremely informative and answered any questions I had with no problems. I was updated on constantly and found that to be an asset to me to know what was going on at all times. I liked the convenience of being able to call with any questions no matter what it was, it was answered to my satisfaction."
Melissa – Memphis, TN
★★★★★
I just completed my second transaction with GoldCo as part of a roll-over IRA. Once again, the process was handled very professionally.

My account executive and his associates have been very patient, courteous and helpful. I highly recommend this company."
Thomas – Middletown, CT
★★★★★
GO TO GOLDCO WEBSITE
#2

Best For Service: Birch Gold Group
Birch Gold

★★★★★
BD Rated: 93.6%
Bullion Dealer of the Year Runners Up 2021
Birch Gold Group may not be the biggest of America's bullion dealers, but there's one thing they do consistently: provide class-leading customer care, transparency and trust.
Best known for their Gold IRA services and free info kit - Birch Gold have long been a favorite with US investors looking to add metals to their IRAs or 401k accounts.
Their team of advisors and brokers are passionate in what they believe yet are never pushy or aggressive in the way so many gold brokers are. They use their deep market knowledge and expertise to best help their clients, working tirelessly to ensure your exact requirements are matched.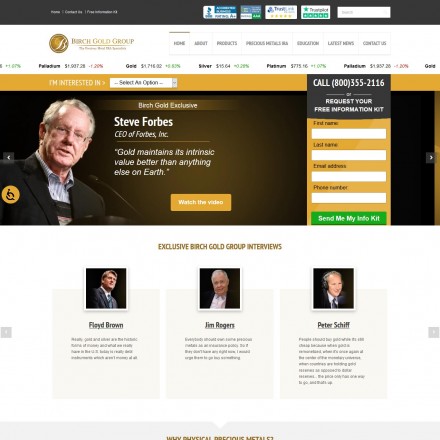 As of January 2021, Birch Gold ratings among the main consumer protection sites are:
Birch Gold Group Costs, Fees and Service Details
Birch Gold Group mainly works with STRATA Trust Company for custodial services and the Delaware Depository for storage. Where clients use these two companies, current annual fees are $75 and $100 respectively, including $1 billion all-risks insurance.
Shipping prices are included in Birch Gold's low IRA fees while for retail purchases requiring home delivery, insured secure shipping is free of charge above an order minimum, currently $10,000.
Minimum investment is $5,000 outside of an IRA and $10,000 within an IRA.
Birch Gold Group Promotions For August:
First year fees waived for IRAs over $50,000
Up to $10,000 in free precious metals – minimum purchase and conditions apply
Special savings on selected bullion products – ask for current offers
GET FREE BIRCH KIT
Birch Gold IRA Reviews:
Birch Gold Group were very patient through my transfer of 401k funds to gold and silver. All steps fully explained and especially useful help given in my selecting specific metals."
Victoria C
★★★★★
I've been getting more tense with global situation and home politics so made a decision to buy gold. I'd been hit bad by downturns in the past and didn't want to make the same mistake for a third time. I wanted to use my IRA for investment for tax purposes despite being very wary about not having possession. Birch Gold Group helped put my mind at ease and have made the transfer process very straightforward. I have now finished the transfer and own physical metals. They have helped me tremendously and I feel I'm as prepared as I can be for what is potentially round the corner. If 2020 is anything to go by I'm glad I finally took active measures."
Cliff
★★★★★
An extraordinary job. I could not be any happier with my experience working with Birch Gold Group. In the beginning I had little idea just how much work they would do for me but it was clear by the end. They were a true partner and offered a full service support in every sense of the word. I truly can't imagine having made my rollover with any other company."
Ralph C.
★★★★★
VISIT BIRCH GOLD WEBSITE
#3

Best For Scale Investors: American Bullion
American Bullion

★★★★★
BD Rated: 91.8%
Bullion Dealer of the Year Winners 2016
One of the larger IRA specialist companies American Bullion have always been at the forefront of new services, being among the first bullion dealers to offer Gold IRAs as a primary function.
As with many IRA specialists they are known for their comprehensive gold IRA info kit - and are responsible for helping thousands of Americans add metals to their IRAs or 401k accounts.
Past specialist and overall winner of our Bullion Dealer of the Year award, American Bullion are an excellent choice for a trustworthy and knowledgeable company for anyone new to gold investments as part of a retirement strategy.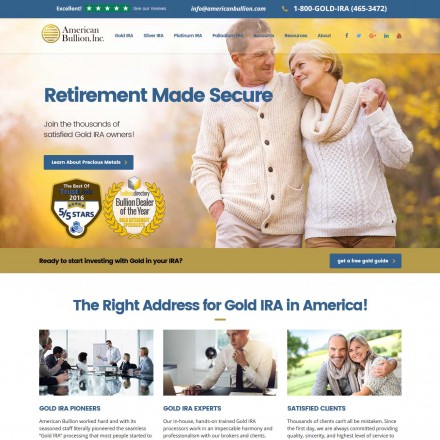 As of January 2021, American Bullion ratings among the main consumer protection sites are:
American Bullion Costs, Fees and Service Details
American Bullion principally works through STRATA Trust Company and the Delaware Depository for storage, with annual fees being $75-$290 depending on the holding. At under $100k, annual fees are $75 or $290 including storage. At over $100k, the annual fee is $150 and including storage is $290.
Shipping prices are included in American Bullion's IRA fees.
Minimum investment is $50,000 inside of an IRA.
American Bullion Promotions For August:
First year fees waived for IRAs over $50,000
Special savings on selected bullion products – ask for current offers
VISIT AMERICAN BULLION
American Bullion Gold IRA Reviews:
While I have considered investing in precious metals for some time recently I decided to begin. Having no experience in this area had been a contributing factor in waiting until now. I was referred to American Bullion and I could not be more satisfied with my choise. Adam Duboff asked very helpful questions and listened to my answers. His professionalism and experience guided me through options and details that not only customized my order, he patiently provided information that served to educate me. My order was filled quickly and precisely as described, no surprises. I feel very fortunate to have found gold in a sea of lead. Having tested the waters elsewhere it has become clear that Amercan Bullion is my exclusive choise for future PM investments. Absolutely high above the rest. Thank you very much Adam for "taking me under your wing". I look forward to our next transaction and cannot recommend AB more highly."
J. Ryan
★★★★★
I voted for American Bullion for Bullion dealer of the year as in my experience they are head and shoulders above the competition. When I was arranging to buy some precious metals for my retirement account I asked 5 companies for advice. They either didn't get back to me because apparently the amount I was adding was too small or they pestered me for weeks and weeks of phone calls. I was treated fantastic by everyone I spoke to at American Bullion, never a bit of pressure and my $10k is now safely stored in gold."
AL – Los Angeles, CA
★★★★★
I am a first time gold buyer. This is a very decent company to work with. When my account specialist was busy and I had questions, their president Mr. Akora took the call and answered my questions about my gold IRA. I give them 5 stars."
C. Denatale
★★★★★
VISIT AMERICAN BULLION
#4

Highly Commended: Regal Assets
Regal Assets

★★★★★
BD Rated: 90.0%
Bullion Dealer of the Year Winners 2015, 2018
Regal Assets are one of the originators of the Gold IRA and regularly win awards for their customer services, branching out recently to include offering gold retirement accounts inside of Canada.
Despite growing their operations internationally, including the UK and Duabi, Regal Assets are still primarily US-focused where they provide alternative assets such as gold and Bitcoin to diversified retirement accounts.
Past winners of Bullion Dealer of the Year both for their US and UAE-based businesses, Regal Assets continue to lead where other bullion dealers follow.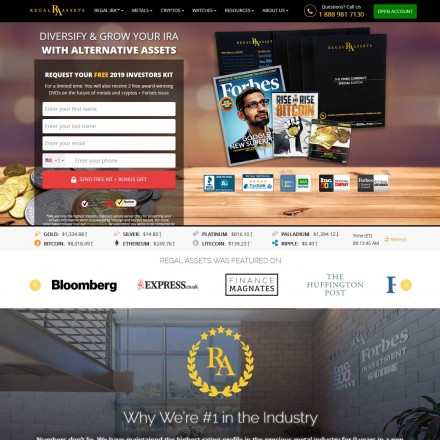 As of January 2021, Regal Assets ratings among the main consumer protection sites are:
Regal Assets Costs, Fees and Service Details
Regal Assets offer US and Offshore storage using Brinks, both for use with retirement accounts and for regular portfolios. Annual IRA fees are $80, with an annual $110 due on US storage regardless of the holding size. Check for up to date offshore storage costs as these can vary.
Insured shipping is included in Regal Assets' IRA fees.
Minimum investment is $5,000 outside of an IRA and $10,000 within an IRA.
Regal Assets Promotions For August:
First year fees waived for qualifying IRAs
Special savings on selected bullion products – ask for current offers
VISIT REGAL ASSETS
Regal Assets Gold IRA Reviews:
Regal Assets have given my wife and me the kind of customer care we didn't believe existed any more. Exemplary company and one that other so-called IRA experts could do with emulating."
Gerald – Casper, WY
★★★★★
I was very pleased with the service I received from Christian Howard and Jannette Compton at Regal Assets. It was a difficult decision for me to put a portion of my IRA in precious metals, primarily because of all I have heard about scams and misleading salespersons. Once I started the process with Regal Assets, my fears were allayed through the use of professional tactics of educating the consumer, as demonstrated by Christian Howard, rather than pressuring the consumer. I was very pleased also that he and Jannette Compton were easily accessible for my questions through email and phone calls. I appreciated that the process was a quick and seamless transaction with being able to docusign online. Thanks, Christian and Jannette, for your patience in working with a first-time buyer!"
Marilyn S.
★★★★★
VISIT REGAL ASSETS
#5

Highly Commended: Noble Gold
Noble Gold

★★★★★
BD Rated: 88.6%
Bullion Dealer of the Year Runners Up 2021
Noble Gold started as an offshoot of another well-known gold IRA company, where individual brokers wanted to offer IRA services with the level of dedication and care that can be difficult in a larger firm.
Having grown rapidly in their first few years of operation, Noble Gold never lost this dedication and have grown a passionately loyal following in what is a highly competitive market.
Shortlisted for our Bullion Dealer of the Year public vote just before Covid led to a temporary postponement of the event, Noble gold are definitely a company to watch in 2021.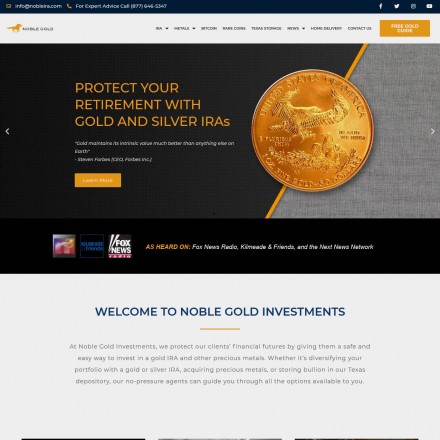 As of January 2021, Noble Gold ratings among the main consumer protection sites are:
Noble Gold Costs, Fees and Service Details
Noble Gold store all client precious metals using International Depository Services. Noble's annual fee is $80 or $150 depending on if clients use the Delaware or Texas depository and their annual storage fee is $225 / $250.
Insured shipping is included in Noble Gold's IRA fees.
Minimum investment is $3,000 outside of an IRA and $10,000 within an IRA.
Noble Gold Promotions For August:
First year fees waived for qualifying IRAs
VISIT NOBLE GOLD SITE
Noble Gold IRA Reviews:
Noble Gold is by far the best of the best! I cannot think of doing business with any other company. Everyone I have dealt with (especially Paul) has been extremely knowledgeable,friendly and helped both my wife and I immensely. Paul did his best to get us the best deal possible."
Ed Erwin
★★★★★
Was referred to Noble Gold by a friend. Very professional and courteous. Followed up on the process. Had many questions about the purchase and they took the time and patience to answer. Hope Ragusa is a pleasure to work with. Received my order complete"
Joseph M.
★★★★
Joshua Ward has been a great help to me with my very first purchase of precious metals. He was/is so friendly and goes the extra mile to answer all my questions and keep me up to date on my account. I hope to continue working with him for many years to come."
Debbie K.
★★★★★
VISIT NOBLE GOLD SITE