First things first, you DON'T need thousands!

Bullion.Directory precious metals commentary 21 October, 2020
By Zoe Lyons
General manager of Hatton Garden Metals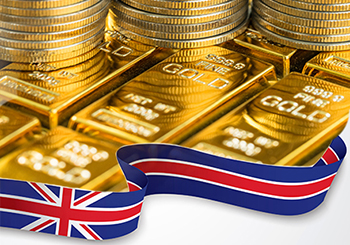 Sure, it sounds flashy when people talk about buying gold, but the reality is that a lot of our investors are simply buying gold as another way to store money rather than stockpiling their savings in the banks.
This can be a very profitable way of storing your money, and indeed 2020 has seen unprecedented rises in the price of gold, making for large returns for earlier investors.
This is not to say there aren't risks that must be considered before making any type of investment, but historically gold has been a safe haven for investors.

We aren't here to tell you which way the market will go, but what we can do pretty well is tell you all the ways to invest in gold, and how simple it can be.
Whether this is a small amount of your salary each month, to a large one-off investment into gold, HGM will have your gold buying needs covered.

So, how much MONEY do I need to start off with?
The answer is really individual. The smallest denomination of gold that we sell is a 1g bar, and these are around £60 when we wrote this article, October 2020.

TIP: The smallest item, isn't always the cheapest gold!
Take for example the 1g gold bar, that is essentially the smallest amount of money that will get you gold in your pocket.
However, as these little bars have a high manufacturing cost the premiums on these are reflective. Meaning that you may pay up-to around 8% over the gold market price for a 1g bar, by comparison for a Gold Sovereign (7.3gg of fine gold) you can pay as low as 3% over the gold market price.
This means, you get more gold for your money if you can afford to buy one the world's most popular small gold coin, The Gold Sovereign or The Gold 1oz Krugerrand for slightly larger investors you will often find that it is coins which have the lowest premiums.

History of Gold Pricing in a Nutshell
You may also want to decide how much of your savings you would like to keep in the bank in a savings account that typically doesn't earn much interest, or perhaps you have an ISA or are invested in stocks and shares.
You always need to feel comfortable with how you are storing your money, and never want to expose yourself to too much risk on your hard earned cash.

Historical Prices of Gold per Troy Ounce

Date £/ Ounce
2000 £172.17
2005 £225.20
2010 £686.82
2015 £766.40
2020 £1,151.36

The next question that investors often ask us is, "I've bought gold… where can I store it?"
Believe it or not, gold has been found to be stored in all weird and wonderful places, to the back garden, under the bed and under floor boards.
Some investors are happy that gold is tangible and so can be physically touched and stored so that access to the investment is immediate.
For investors who would prefer to buy gold and not have to worry about where they can store their metal, Hatton Garden Metals offers a complete storage solution allowing you to buy gold, store your investment safely and then release and sell your investment. This is all without the hassle of ever having to worry about your purchase.
Ultimately, we at Hatton Garden Metals can take care of all your gold buying needs. You can buy gold and invest at the lowest premiums, we can safely store your gold, and when it comes to selling, we will offer the buy your bullion at the best price.
We are the UK No1 company for selling gold according to a Free Index survey on scrap gold buyers, a reputation we are proud of along with our outstanding 5 star overall ratings on TrustPilot.

This article was originally published
here