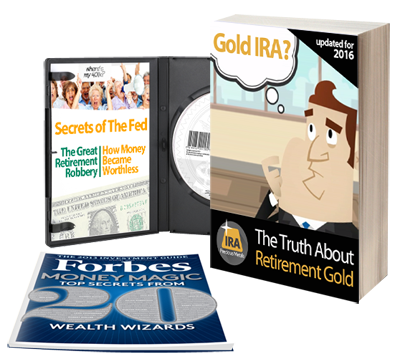 Grab this award-winning guide to adding precious metals inside your retirement account


Get The Ultimate Guidebook To
Adding Gold

Inside Your IRA
This Gold IRA kit has helped thousands of Americans transform their retirement

Award Winning
The Gold IRA Guidebook has already received multiple industry awards for it's clear, easy to follow explainations. Discover 20+ insider tricks, avoid scams and pay the lowest prices.

Market Beating
Physical gold bullion in an IRA or investment portfolio has been proven to outperform cash, stocks, bonds, shares, certificates and any other paper asset classes time and time again.

Wealth Protecting
Many retirement plans lost half of their value during the 2008 crash. Meanwhile gold-backed IRAs - now known for their wealth preservative properties - saw massive gains.
Claim Your Gold IRA Kit and You Will Receive 100% FREE:

Insiders IRA and 401(k) Rollover Guide.
Learn exactly how to rollover your existing retirement account into physical metals TAX FREE without PENALTIES or FEES.

Secrets of The Federal Reserve DVD.
Discover the award winning documentary that reveals the hidden secrets of the Federal Reserve and US monetary system.

Forbes Magazine Investment Guide.
Receive the Forbes investment guide and learn what can protect your retirement account from the coming market crash.

The Untold Story of Gold Special Report.
Rediscover the events that followed the 2008 financial collapse and how they play a vital role in the future of gold and silver.